You're a Linux user, so you expect to be able to have your space just as you like it, right? Therefore, you need to know about an application that lets you "tweak your device"!

What is it?
Stefano writes: "There was a number of unexposed settings in Unity 8+Scopes, and a few useful commands were only accessible via CLI. I decided to package everything up in a single UI, to provide options that weren't (and some still are not) available in System Settings. A few settings require sudo password, which is prompted at app launch: I made that choice to add a bit of drama."
This application offers you some advanced settings for your Ubuntu device - consider it the 'Toolbox for the Ubuntu Touch Adventurer". Perhaps the novice ought not to be using this, but for the experienced Linux user, this is where Ubuntu Touch shows its superiority over other platforms. For today we are going to show you some moves that will help you enjoy your UT device more. Do keep in mind though that the reason you have to enter your master password when you open the app is because Ubuntu Tweak Tool does have the power to really mess up your device. So, navigate with caution and, if you're feeling adventurous, customize a few things. Read on to find out how.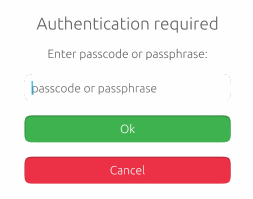 How to access its functions to enjoy the best user experience?
As you boot up the app, the first thing you have to do is enter your password. This gives you complete control of the device, and thus the power to screw everything up!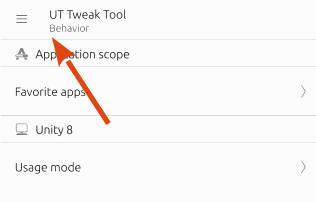 The drop-down Menu (top left) offers access to the three main pages of this app: Behavior, Apps Scopes and System.
Behavior > Favourite apps
This option allows you to replace the predetermined apps at the top of the Apps / Scopes screen with your favourite apps. Click the + button (top Right), and select your app, then press and hold the icon. Then, when you return to the apps / scopes page, you will see your chosen app icons at the top. This is a useful way of organizing the ones you use most frequently. 
Behavior > Usage mode
Here you can choose how your device behaves: if you want it to look like a PC, choose windowed. This will, as the name suggests, present a familiar PC desktop environment, with windowed applications complete with control buttons. The other option - Staged - gives a more optimal working space for smaller screen devices.
Behavior > Launcher
UT Tweak Tool offers a great deal of control over the Launcher. For example, if you never liked the Launcher when Canonical introduced it in the beginning - no problem. With the toggle of a switch you can banish it from your screen forever!
Perhaps you can't decide whether you like the Launcher there all the time, or if you prefer to hide it away until you need it. Try out the Autohide option, and see which feels more comfortable. Are those launcher icons getting smaller and smaller as you get older and older? You can either go and see an optician, or you can adjust their size to your comfort, using the slider. 
Behavior > Indicators
Turning the indicator toggle switch off means that, after a reboot, you won't be given notifications. However, the icons remain. It's a useful feature to be able to see the remaining battery life given in percentage terms. But then, perhaps you prefer a more minimalistic look to your indicator panel. You can choose either option here.
Behavior > Edge sensitivity
Are you finding your device overly sensitive? Does it have some unexpected reactions to the slightest caress? Thankfully, you can temper its behavior in this section. Use the sliders to change Edge barrier sensitivity, Edge barrier push, and Edge drag area width.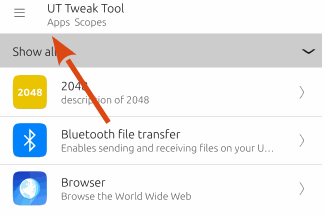 Apps Scopes

This section of the app presents all the applications that you have on your device. 

Clicking on each icon gives both general details of the app, and the things each app needs to use in order to function.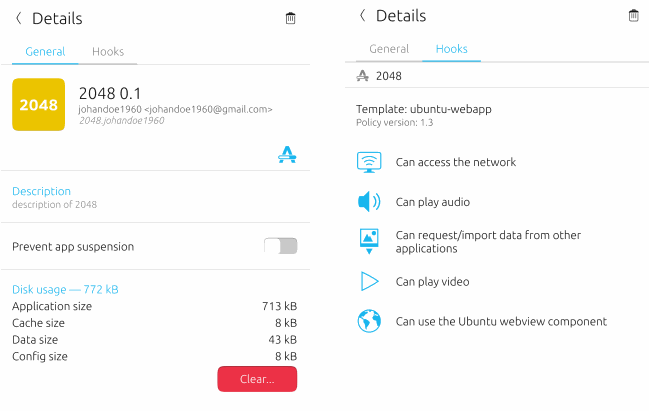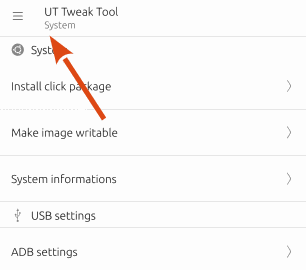 I'm unpredictable!
System

Install click package - This is fairly self-explanatory. Make image writable - careful here! System Informations - provides details about your device and the OS. ADB settings allows you to enable RNDIS via ADB, i.e. USB tethering.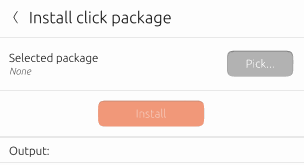 Application details
First published: 2017/05/03
Last version: 0.3.91 published 2017/11/10
What's new in the latest version:
Fixed issue with Unity8 settings visibility
Web address / Source Code: [UT Tweak Tool] (https://launchpad.net/ubuntu-touch-tweak-tool) 
Licence: GNU GPL v3
Permissions: Copyright ©Stefano Verzegnassi
Original language: English
Translated to: Catalan, Chinese, Dutch, French, Italian, Norwegian Bokmal, Spanish
What do you think of this app?
Please send your comments and suggestions through the box at the bottom of this blog.
Explore the full spectrum of Ubuntu Touch Apps at OpenStore - The official Ubuntu Touch app store.